Almond Joy Inspired Cookies
Posted on: February 1, 2023. Updated on: June 30, 2023.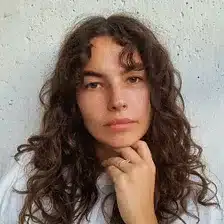 by Carolina Gelen
Jump to Recipe
Rich chocolate cookies topped with sweet, creamy shredded coconut, crunchy almonds and chocolate ganache: this decadent dessert is the perfect weekend baking project.
I had this idea of turning a Bounty bar (a candy similar to Almond Joy, sans the almonds) into a cake. I went forward with that idea, just to find out the coconut filling texture and cake are incompatible: no matter the cake shape, round, loaf, square, the cake would ultimately tear apart once sliced. Since the coconut filling is quite rich, once pressed against the cake it would eventually crumble. After a few tests, I decided to turn my cake into a cookie, a sturdy base capable of holding together all the fillings and toppings. It worked… after many, many tests over the course of 3 weeks, but it worked! I ended up developing a really rich, chocolaty cookie, sturdy enough to hold together the final system. I love the coconut-chocolate combo, it's well-balances, robust and highly satisfying. I can't wait to hear what you think!
Carolina
xx
Almond Joy Inspired Cookies
Servings: 20 cookies
Prep: 40 min
Cook: 10 min
Total: 1hr 20min
Chill time: 30min
Ingredients
COOKIES
113 g (1 stick) butter
1 tablespoon instant coffee + 1 tablespoon hot water or 1 x 15 g espresso shot, optional
45 g (about 1/2 cup) Dutch-processed cocoa powder
75 g (about 1/3 cup, plus 1 tablespoon) dark brown sugar
50 g (about 1/4 cup) white sugar
1 large egg
1 teaspoon vanilla extract
1/2 teaspoon kosher salt
147 g (about 1 1/8 cups) all-purpose flour
1/4 teaspoon baking powder
TOPPINGS
11.6 oz (330 g) sweetened coconut condensed milk
200 g shredded coconut (can be sweetened)
1/4 teaspoon kosher salt
40 whole almonds (1.5 oz, 42 g, or about a handful)
300 g milk or dark chocolate, cut into chunks
100 g (about 1/2 cup) heavy cream
Flaky salt
Instructions
Add the butter to a small saucepan over medium heat. Melt the butter, swirling occasionally, until fragrant, toasty and golden brown in color. As soon as you see brown solid bits at the bottom of the pan, remove the butter off the heat and set aside.
Add the espresso or instant coffee + hot water, if using, to a medium mixing bowl. Sift the cocoa in the bowl. Pour in the browned butter and mix with a spatula or wooden spoon until incorporated.
Add the brown sugar, white sugar, salt, vanilla extract, and egg to the bowl. Mix everything until combined.
Add the flour and baking powder to the batter. Run your fingers or a whisk though the dry ingredients to evenly distribute the baking powder through the flour. Mix everything using a spatula or wooden spoon until combined. You should be left with a malleable, thick, cookie dough mass.
Place a parchment paper sheet over your work surface. Place the cookie dough in the middle. Roughy shape the dough into a log using your hands. Fold the parchment paper over the dough and push the dough against the fold, using a bench scraper, until you're left with a 20 cm (8 inch) long log. Place the cookie dough log in the freezer, until hard to the touch, for about 25 to 30 minutes.
In the meantime, heat the oven to 375°F (190°C).
Slice the hardened log of cookie dough into 20 pieces. Place them on a baking sheet lined with parchment paper, leaving a little space in between. If the cookies are frozen, they won't spread much in the oven. Bake for 10 minutes, then remove the cookies from the oven and set aside to cool.
In a medium mixing bowl, combine the sweetened condensed milk, coconut and a pinch of salt. Mix until combined and set aside.
Combine the chocolate and cream in a microwave-proof bowl. Microwave at 15 second intervals, mixing every 15 seconds, until the chocolate and cream are fully combined.
To assemble, place the cookies on a cooling rack, on top of a baking sheet to catch all the drippings. Add a dollop of the coconut mixture on top of each cookie. Press the coconut mixture with your hands to flatten. Add two almonds on top of each cookie. Pour the chocolate all over the cookies. Add a sprinkle of flaky salt on top.
Set aside to cool in the fridge or freezer. Pull them out when you're ready to serve them.