Caramel Apple Crumble Cheesecake Cups
Posted on: September 25, 2022. Updated on: July 11, 2023.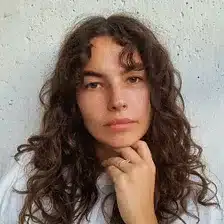 by Carolina Gelen
Jump to Recipe
Apple season is upon us, and today's recipe is here to celebrate that! We've got a pairing between a creamy, silky, no-bake cheesecake and the best parts of an apple pie: jammy apple filling and crunchy, buttery crust.
If you're not the biggest fan of mini-desserts, don't hesitate layering these elements in an 8-inch square baking dish. You can serve it to your guests by simply scooping it out using a large spoon, directly onto the serving plate.
Caramel Apple Crumble Cheesecake Cups
Prep: 45 minutes
Cook: 30 minutes

Ingredients
CHEESECAKE
150 g (about 3/4 cup) heavy cream
226 g (8 oz) cream cheese, room temperature
100 g (about 1 cup) powdered sugar
100 g (1/2 cup) sour cream
a small pinch of salt
APPLE LAYER
1 lb or 450 g (about 3 large) Honey Crisp, Granny Smith, or Pink Lady apples, peeled, cored, and sliced into 0.5 cm thick slices
45 g (3 tablespoons) butter
100 g (about 1/2 cup) brown sugar
1 1/2 teaspoon cinnamon
2 teaspoons vanilla extract
2 teaspoons apple cider vinegar
CRUMBLE
100 g (about 3/4 cup) all-purpose flour
25 g (about 1/4 cup) rolled oats
50 g (about 1/4 cup or a handful) pecans or walnuts, chopped
50 g (about 1/4 cup) white sugar
113 g (1 stick or 8 tablespoons) cold butter, cubed
12 g (about 2 tablespoons) cold water
CARAMEL SAUCE
100 g (1/2 cup) sugar
30 g (2 tablespoons) butter
100 g (1/2 cup) cream
a small pinch of salt
SUBSTITUTES FOR:
heavy cream: full-fat coconut cream;
cream cheese: vegan cream cheese, blended soaked cashews, silken tofu (you might need to add extra sugar if using tofu);
sour cream: full-fat Greek yogurt, vegan yogurt;
apples: pears, peaches, plums, any other fruit of choice;
butter: vegan butter;
brown sugar: white sugar or maple syrup (you might want to use less grams than what the recipe calls for if using maple syrup);
apple cider vinegar: lemon juice;
flour: all-purpose GF flour;
rolled oats: instant oats, all-purpose flour;
pecans or walnuts: seeds of choice, or skip overall;
caramel sauce: store-bought caramel sauce.
Instructions
Whip the heavy cream to stiff peaks using a whisk, electric mixer or stand mixer. In a separate bowl, combine the cream cheese, powdered sugar and mix, using an electric mixer, stand mixer or whisk, until fluffy. Add the sour cream, and mix until incorporated. Start adding a dollop of whipped cream over the cream cheese and gently fold the two using a spatula or wooden spoon. Repeat this step until all whipped cream has been incorporated. Pipe the cheesecake mixture in 6 individual 7 to 8 oz serving cups and place them the fridge to cool.
For the apple layer, combine the butter, apples, sugar, cinnamon, vanilla and vinegar in a large pan over medium heat. Cook, stirring occasionally, for 12 to 15 minutes, or until the apples become soft and jammy. Set aside to cool.
Heat the oven to 375°F or 190°C. Combine the oats, pecans, sugar and flour. Mix the dry ingredients with your hands, then add the butter. Massage the cold butter in the dry ingredients, until you get a sand-like crumbly texture. Add the water, and roughly mix until the dough forms larger crumbs.
Line a baking sheet with parchment paper. Dump the crumbly dough over the baking sheet. Press down the dough into a large rectangle, using your hands. Bake for 13 to 15 minutes, or until the edges get golden brown. Allow it to cool for a few minutes, then crumble the sheet using your hands. Set aside.
For the caramel sauce, add the sugar to a stainless steel pan or saucepan over medium low heat. Allow the sugar to slowly melt in the pan, without stirring it. Stirring the sugar will encourage crystallization, which is something we want to avoid. You can tilt and shake the pan every now and then to evenly distribute the sugar throughout the pan. Once the sugar is melted and has a golden amber color, carefully toss in the butter. Stir using a wooden spoon. Pour in the cream, while continuously stirring. Add a pinch of salt, and set aside.
To assemble, take the cheesecakes out the fridge. Sprinkle a few tablespoons of crumble on top, add a dollop of apples, more crumble on top, then serve with a caramel sauce drizzle and enjoy!
Store these in the fridge, up to five days. Freeze up to a few months, for a longer shelf life.