Caramelized Lemon Vinaigrette
Posted on: January 9, 2023. Updated on: June 30, 2023.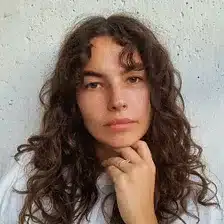 by Carolina Gelen
Jump to Recipe
Hi Friends,
I don't know about you but I like my vinaigrette to have a sharp, bold flavor, so that's what I made for you today. Too many dressings in stores often sound tasty but turn out to be colored sugar with a fancy name and fancy packaging. Not this one!
The start of this recipe are lemons. What makes this dressing different is caramelizing the lemons beforehand, creating a complex layer of tartness, sweetness and sharpness that, combined with the perfect balance of honey, creates delightful harmony in your salad. Take the time to caramlize the lemons, it will make such a difference!
To highlight this dressing, I made a simple farro salad paired with gruyère cheese, macadamia nuts, dates and lettuce, it's a delicious and satisfying dish.
Farro is a grain surprisingly high in protein, you get 6 g per 1/4 cup of farro, and has a nutty flavor that adds a lot of depth to our salad and a pleasantly chewy texture to any dish.
I added macadamia nuts for their buttery flavor and creamy texture. The nuts add crunch to the salad, and their flavor pairs perfectly with the tangy caramelized lemon dressing. If you don't have macadamia nuts on hand, cashews or sunflower seeds will do the job.
Gruyère is a type of Swiss cheese that has a slightly sweet and nutty flavor, making it the perfect complement to the farro and caramelized lemon dressing. It enhances the sweetness of the dressing and complements its sharpness. If you can get your hands on it, get the good stuff, preferably the cave aged kind. I once had a gruyère so good I dreamt of it the next day. I never remember my dreams but the memory of that one happened to stay with me.
You can use any type of lettuce you prefer, romaine, iceberg, butterhead lettuce, or even arugula. The crisp greens will add a refreshing bite to it all.
Caramelized Lemon Vinaigrette
Servings: Salad (2 to 3), Dressing (4 to 6)
Prep: 10min
Cook: 15min
Total: 25min

Ingredients
Caramelized Lemon Vinaigrette (4 to 6 servings)
3 lemons (about 300 g), preferably Meyer lemons
1/2 cup extra-virgin olive oil
60 to 75 g honey (about 3 to 4 tablespoon)
1/4 cup water, plus more as needed
Kosher salt and freshly cracked black pepper
Farro Salad (2 to 3 servings)
1/2 cup farro
5 Medjool dates or 10 smaller dates, thinly sliced
2 handfuls macadamia or cahew nuts, roughly chopped
Lettuce of choice, I used a mixture of butterhead lettuce and iceberg
Gruyère cheese, for topping, optional
Substitutes
meyer lemons: any lemon that has a thin peel and a thin layer of pith, don't get the massively pithy ones, they'll be too bitter for this;
extra-virgin olive oil: avocado oil, grapeseed oil, or any neutral oil you'd eat;
honey: agave nectar or maple syrup

the honey is there to help emulsify stuff, but if you're looking for a sugar-free option you can use monk fruit (or any other sweetener of choice) and add a teaspoon of dijon mustard to the dressing to help it emulsify;

farro: brown rice, couscous, wheat berries, etc.
dates: raisins, craisins, dried apricots or omit;
macadamia nuts: cashews, sunflower seeds, etc.
cheese: sharp cheddar, parmesan or omit.
Instructions
DRESSING
For the vinaigrette, wash the lemons with warm water and a gentle scrub. Thinly slice the lemons in 0.5 cm slices. Save the end pieces for later. Heat a 1/4 cup of oil to a large sautè pan (enough to fit all lemon slices) over medium heat.
Carefully add the lemon slices (not the ends) to the pan. Sear each side until amber and caramelized. Reduce the heat to medium-low as needed. I don't like timing this process since our stove settings could be so different, so instead of sharing time estimates, here are some visual clues you should look for: when you sear the first side, the bits and juices around the lemon will get darker and darker, lift the lemon with a pair of tongues, if it's golden amber, flip it, otherwise, keep searing. If a certain spot starts browning and caramelizing too fast, place a lemon end over it and move it with a pair of tongues, back and forth to "wash" that spot. Make sure you keep an eye on the pan at all time, the natural sugars can burn really fast.
Once the lemons are seared, place them on the cutting board. Finely chop the cooked lemons until they roughly turn into a paste. Grab one of the leftover lemon ends and brush the pan with the cut side down. Brush off all those caramelized bits on the bottom of the pan and pour the leftover oil in the mixing bowl.
Add the caramelized lemon paste to the mixing bowl. Add the remaining 1/4 cup of olive oil to the bowl, 60 g or 3 tablespoons of honey, a pinch of salt, and black pepper. Whisk to emulsify.
Add 1/4 cup of water to the bowl and whisk to combine. Try the dressing and add more honey as needed, to taste.
Store the dressing in a jar, in the fridge, up to 3 to 4 weeks.
SALAD
Add the farro to a small empty pot. Add a cup of water and wash the farro grains, similar to how you would rinse rice before cooking. Discard the water.
Add 2 cups of water and a big pinch of salt over the washed farro. Bring to a boil, then simmer or medium-low for 20 minutes to 50 minutes, depending on the farro you're using (pearled farro will take around 20 minutes to cook, whole farro will take 40 to 50 minutes to cook). Drain the excess water and set aside.
Combine the lettuce, dates, and nuts in a bowl. Drizzle the dressing all over and toss to combine. Finely grate the cheese all over the salad, right before serving.