Chicken Paprikash
Posted on: January 23, 2023. Updated on: June 30, 2023.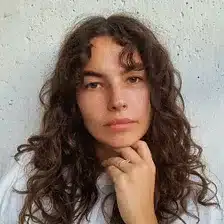 by Carolina Gelen
Jump to Recipe
Succulent chicken, creamy, savory paprika sauce and chewy egg dumplings, all in one dish: this is chicken paprikash, a rich and comforting Hungarian recipe I grew up with. I have fond memories of making and eating this meal with my family, my parents would always prepare a platter of crisp, green onions for the table and set it next to the big pot of paprikash. There are so many variations to this recipe, some people serve it with egg dumplings, some with egg noodles, some with potatoes and some with bread. Whatever carb-filled utensil for transporting the sauce from the plate, to your mouth will do the job!
My version is here to simplify the process as much as possible, without giving up any flavor. Traditionally, this meal is made with bone-in chicken. While I can appreciate the flavor bone-in chicken brings, I always thought it was so messy and fussy trying to scoop out a chicken drumstick or boney thigh out of the stew, it's all covered in sauce, whether you use your hands, a fork or a knife, the sauce tends to get everywhere but on your plate. For that exact reason, I decided to use a mixture of chicken thighs for my recipe, and chicken broth (bonus points if using chicken bon broth). This way, we'll get all the flavor of a classic paprikash, without all the messy aftermath.
I like to slowly cook the onions and bell peppers together, until they form a paste. Bloom the paprika alongside that and you've got yourself the perfect base for the paprikash sauce.
Traditionally, you'd use heavy or sour cream for the sauce. You'll notice I switched things up with a little coconut milk to keep things kosher. The coconut milk brings a pleasant sweetness and lightness the paprikash I grew up with was always missing.
For more ingredients substitutes, check the list below the ingredients.
Chicken Paprikash
Servings: 4 to 6
Prep: 20 min
Cook: 45 min
Total: 1hr 5min

Ingredients
STEW
1 to 1 1/2 lbs (500 to 700 g) chicken thighs (about 4 to 5) or chicken breast, cubed into bite-size pieces
1 medium yellow onion, finely chopped
3 medium red bell peppers (or 2 large ones), finely chopped
1 heaping tablespoon tomato paste
3 garlic cloves, minced
14 oz (400 ml) can full-fat coconut milk

traditionally, you'd use heavy (sometimes sour) cream, but since I don't combine meat and dairy in my recipes, coconut milk is perfect for this

3 tablespoons sweet paprika, plus more to taste
1 teaspoon cayenne pepper, more or less to preference
1/2 chicken stock cube + 1 1/2 cups water OR 1 1/2 cups chicken stock 
1 tablespoon cornstarch
Neutral oil for searing, such as sunflower seed oil, grape oil, canola oil;
Kosher salt and pepper 
Fresh parsley and green onions, for serving
DUMPLINGS
2 cups (260 g) all-purpose flour
6 large eggs

if you don't feel like using this many eggs, substitute half of them with water, add 3 eggs, then add water until the dumpling batter reaches the desired consistency

Kosher salt
SUBSTITUTES FOR
chicken: butter beans, cubed tofu, or mushrooms;
yellow onion: shallots;
tomato paste: a handful of cherry tomatoes, cooked down;
garlic: omit or use 2 teaspoons garlic powder;
coconut milk: blended cashews, blended tofu, or any non-dairy milk alternatives;
cayenne pepper: omit or use a dash of hot sauce of choice;
chicken stock/chicken stock cube: bone broth or vegetable stock;
cornstarch: all-purpose flour;
eggs: water or non-dairy milk.
Instructions
Add the chicken to a bowl. Season with a big pinch of salt and pepper. Add a drizzle of oil and toss the meat to evenly coat with seasoning. Set aside to marinate for 10 minutes.
Add a glug of oil to a braiser or medium pot over medium heat. Sear the bite-size marinated chicken on each side, for about 2 to 3 minutes per side, or until it has developed a golden crust. You're not looking to cook the meat all the way through, aim for cooking it 80% through (the meat will finish cooking in the sauce). Remove the meat from the pan and set aside on a plate.
Add more oil to the pan if needed, for sautéing the remaining ingredients. Toss in the onion and sauté for 3 to 4 minutes, or until the onion becomes golden, softened and translucent. Add the bell peppers and continue cooking, for 5 to 7 minutes, mixing occasionally, until softened. Reduce the heat to medium-low if needed, and cook the onion and bell peppers down, until the mixture slightly thickens and caramelizes, for 4 to 6 more minutes. Add more oil as needed.
Add the tomato paste over the onion and bell peppers. Mix to combine and cook for 2 to 3 more minutes, until the tomato paste becomes darker in color. Add the garlic and sauté for 2 minutes, until fragrant. Add the paprika and cayenne, if using, to the pan. Cook on low for 1 to 2 minutes to bloom the spices, or until fragrant.
Pour the coconut milk over the mixture. Mix to combine. You should be left with a silky, orange colored sauce, the color will be very similar to a vodka sauce. Pour in the chicken stock or chicken cube and water. Season with a big pinch of salt and add the chicken back to the sauce.
Simmer for 15 to 20 minutes, mixing every now and then, until visibly thickened. In a small bowl, combine the cornstarch with a tablespoon of water. After 15 minutes of simmering, add the cornstarch mixture. This should immediately thicken the stew. Simmer for 3 to 5 more minutes and remove from heat. Taste, and season with more salt, as needed.
For the dumplings, bring a medium 3 to 4-quart pot of water to a boil. Season it with a big pinch of salt. Combine the flour, eggs, and a pinch of salt in a mixing bowl. Vigorously mix everything together using a fork, until combined. You should be left with a thick, gooey pancake-like batter. Using a spoon, scrape small bits of dumpling batter against the edge of the mixing bowl, straight in the boiling hot water using a spoon. Repeat until you are out of dumpling batter. Simmer the dumplings for 2 to 4 minutes, or until doubled in size. Taste to check for doneness and simmer more as needed.
Serve the dumplings with paprikash on top, parsley and green onions.