Espresso Chocolate Chip Cookies
Posted on: September 4, 2022. Updated on: July 12, 2023.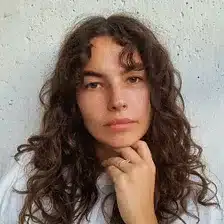 by Carolina Gelen
Jump to Recipe
This is one of my favorite cookie recipes I have ever developed. I like to describe it as an upgrade to your classic chocolate chip cookie. It has a similar flavor profile and texture to your favorite chocolate chip cookie, but the following elements take this dessert to the next level: brown butter and espresso powder.
Using brown butter is one of the easiest ways to achieve a more complex and robust flavor in your baked goods. To achieve this, bring the butter a little past its melting point. The milk solids in butter start to caramelize and develop a nutty, toasty, caramel-like flavor. It's such an easy upgrade that only takes you an extra 6 to 8 minutes.
I usually have a jar of instant espresso or instant coffee somewhere in the back of my pantry. Espresso powder has a characteristic bitterness and depth I like to take advantage of when it comes to often overly sweet desserts like brownies and cookies. A touch of espresso powder in cookie dough or brownie batter balances out the sweetness of the dessert and enhances the rich, chocolatey undertones. Once again, a modest ingredient that'll make a huge difference in the final dessert.
The final cookie this recipe yields has crispy edges, and a soft, gooey center. The overall flavor is rich, not too sweet, not too chocolatey, and packed with nutty, toasty caramel notes. A light sprinkle of flaky salt at the end will complement the sweetness and richness of the cookies, so make sure you don't skip on that. It's absolutely delicious! This cookie paired with a cup of coffee or glass of milk is the ultimate sweet treat!
Espresso Chocolate Chip Cookies
Servings: 10 to 12 cookies
Prep: 15 minutes
Cook: 12 minutes

Ingredients
1 1/2 sticks (168 grams) butter
2 tablespoons (5 grams) instant espresso (or instant coffee)
3/4 cup (150 grams) brown sugar
1/3 cup (60 grams) white sugar
1/2 teaspoon kosher salt
1 tablespoon (7 grams) Dutch-processed cocoa powder
2 tablespoons (30 grams) heavy cream
2 teaspoons vanilla extract
1 large egg
1 1/4 cups + 2 tablespoons (185 grams) all-purpose flour
1/4 teaspoon baking powder
1/8 teaspoon baking soda
1/2 teaspoon vinegar or lemon juice
2 handfuls (100 grams) of chocolate chips
Instructions
Add the butter to a saucepan on medium heat. Cook the butter, stirring occasionally, until it foams, and eventually browns, for 6 to 8 minutes. You'll know the butter is ready once it reaches a golden amber color. Pour the butter in a large mixing bowl.
Add in the instant espresso powder, brown sugar, white sugar, salt, cocoa powder, heavy cream, vanilla extract, vinegar or lemon juice and baking soda. Whisk to combine.
Add the egg and whisk again, until you're left with a smooth, runny batter.
Add the flour and baking powder and mix with a spoon or spatula until incorporated, or until there are no visible dry flour spots. Add the chocolate chips and mix to incorporate.
Place the cookie dough in the fridge to harden, for at least 2 hours, preferably overnight. If you were to bake it right away, without chilling the dough, the cookie will bake into a flat pancake.
Heat the oven at 350°F or 175°C.
Line a large baking sheet with parchment paper.
Once hardened, scoop out the cold cookie dough using an ice cream scoop (I used a 3 tablespoon-sized scoop), and place the cookie dough on the baking sheet. Don't flatten the cookie dough, keep it nice and round. Leave a 3 inch, or 7 cm space in between cookies.
Bake for 10 to 12 minutes in the oven, until golden brown and crisp looking.
Take the cookies out the oven and let them set for 2 to 5 minutes at room temperature, after that, they're ready to be served. Finish the cookies off with a light sprinkle of flaky salt. Dunk them in coffee for a nice morning treat.
Store the cookies in an airtight container or ziplock bag, at room temperature, in a dry spot.