Fall Squash Galette
Posted on: October 7, 2022. Updated on: July 11, 2023.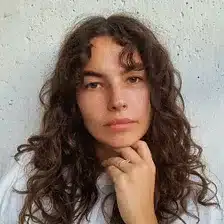 by Carolina Gelen
Jump to Recipe
Cheesy, jammy fall squash, all wrapped up in a crusty, flaky savory salted galette dough. It's the perfect hearty fall pie to bake this autumn, especially if you're tired of all the sweet pastries. Use any squash you have on hand. I used a mixture of zucchini squash, acorn squash, and butternut squash. Serve this at a dinner party, or try it with an egg on top for a comforting fall breakfast.
Fall Squash Galette
Servings: 8 to 12
Prep: 40 minutes
Cook: 60 minutes

Ingredients
Dough
1/2 cup (75 g) pumpkin seeds, optional
1 cup (145 g) all purpose flour, plus more for dusting
1/4 cup (35 g) rye flour, or oat flour or all purpose flour
50 g sharp cheddar, crumbled or grated
1 teaspoon kosher salt
10 tablespoons (140 g) cold butter, cubed
1/4 cup plus 2 tablespoons (70 g) cold water
Filling
1.5 lbs (685 g) mixed squash, I used 1/2 acorn squash, 1/2 butternut squash and 2 small zucchinis, thinly sliced into 0.3 to 0.5 cm slices, using a mandolin or a sharp knife
2 medium shallots, thinly sliced
4 to 5 garlic cloves, minced or grated
3 sprigs rosemary, about 2 tablespoons chopped leaves
1/4 cup extra-virgin olive oil
1/4 cup (37 g) pumpkin seeds, optional
1/2 teaspoon ground pepper
1/2 teaspoon cayenne pepper, more or less to taste
1 teaspoon coriander seeds, ground
2 teaspoons kosher salt
1 tablespoon vinegar or lemon juice
150 grams (5 oz) extra-sharp cheddar cheese
2 tablespoons all-purpose flour
1 egg, optional
Flaky salt
Instructions
For the crust, add the butter, salt, pumpkin seeds, cheddar cheese, and flour to the bowl of a food processor. Pulse for 1 to 2 minutes until combined. Slowly pour the water while pulsing until the dough clumps around the blade. If you don't have a food processor, massage the butter in the dry ingredients using your hands until the dough reaches a clumpy, wet-sand-like consistency. Pour in the water and mix to incorporate.
Dump the dough on the work surface. Press the clumps of dough together to form a rough, shaggy dough. Wrap the dough in plastic wrap. Roughly shape it into a thick disk. Chill for at least 30 minutes in the fridge, up to overnight. The dough freezes very well, so feel free to make it weeks ahead.
In the meantime, heat the oven to 400°F or 205°C. Line a large baking sheet with parchment paper (large enough to fit a galette measuring 11 inches or 28 cm in diameter).
Combine all filling ingredients in a large mixing bowl: thinly sliced squash, thinly sliced shallots, minced garlic, extra-virgin olive oil, chopped rosemary leaves, pumpkin seeds (if using), black pepper, cayenne pepper, ground coriander seeds, kosher salt, vinegar or lemon juice, extra-sharp cheddar cheese, and all-purpose flour. Toss everything together.
Divide the cold dough into thirds. Stack the three pieces of dough on top of each other. Lightly flour the work surface and rolling pin. Roughly shape the dough into a ball. Roll the cold dough to a 0.5 cm thickness, maintaining a circle shape. The final dough should measure 14 inches (36 cm) in diameter.
Lift the dough and place it on the lined baking sheet. Dump the filling in the middle of the dough, piling the squash (and other ingredients) in the center, reserving a 3-inch (8 cm) rim around the dough for folding over the filling. The filling might seem excessive, but don't worry; it'll all cook down in the oven.
Fold the reserved 3-inch (8 cm) rim over the filling. Beat the egg with three tablespoons of water. Brush the edge with egg wash. Sprinkle flaky salt on top. Place in the oven on the middle rack.
Bake for 45 to 65 minutes, until the edges of the galette, are golden brown and hard to the touch. Make sure to check on the galette halfway through baking. If the edges are browning too fast, cover the edges with aluminum foil, exposing the filling in the center.
Slice and serve.