Garlic Herb Yogurt Dip
Posted on: October 28, 2022. Updated on: July 11, 2023.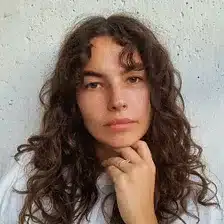 by Carolina Gelen
Jump to Recipe
This is a quick and easy appetizer which comes together in only a few minutes and uses pantry and fridge staples you probably have laying around. It's very easy to make your own, I use greek yogurt as my base dip but you can use, regular yogurt, sour cream or labneh if you prefer. Additionally, feel free to create any savory flavor combinations with the oil. Think of this as a template with the idea to combine delicious flavors with a creamy dairy base which pairs perfect with vegetables, and bread. I hope this gets your creative minds working. 🙂 Enjoy!
Garlic Herb Yogurt Dip
Servings: 4
Prep: 10 minutes
Cook: 5 minutes

Ingredients
1/3 cup extra-virgin olive oil
3 garlic cloves, minced
1 handful parsley leaves and tender stems, finely chopped
1 teaspoon freshly ground black pepper
1 teaspoon hot paprika
1/4 teaspoon cayenne
3/4 teaspoon kosher salt, plus more to taste
Instructions
Heat the oil in a saucepan for 3 minutes over medium-high heat. Simultaneously, add garlic, parsley, pepper, paprika, cayenne, and salt to a bowl. Pour the hot oil in the bowl and let it infuse for 5 minutes.
Swirl the yogurt in a shallow bowl, sprinkle with a pinch of salt. Drizzle some or all of the oil mixture on top. (If you have leftover oil, you can save it in the fridge to eat with eggs, potatoes, whatever you want.) Serve with raw vegetables, crackers, and/or bread. Enjoy!