Hibiscus Orange Poached Pears
Posted on: October 13, 2022. Updated on: July 11, 2023.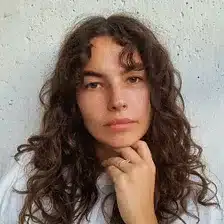 by Carolina Gelen
Jump to Recipe
Pear season is upon us, and this recipe is here to celebrate this versatile fruit. These hibiscus orange poached pears are a dessert with a luxurious feel, requiring very minimal effort. If you've boiled a pot of potatoes before, you are more than qualified to make this.
Serve the pears warm, over ice cream, with more syrup on top, cold over oatmeal porridge or yogurt, or take the recipe up a notch by pairing it with homemade vanilla custard. The options are endless!
Don't discard the leftover liquid, simmer it until it reaches a maple-syrup like consistency and use it as a spiced, tangy, floral and citrusy syrup for your next drink. Pair it with cold seltzer and lemon juice for a refreshing mocktail, or mix it with soda, lemon juice and little gin or vodka for a tasty cocktail.
Hibiscus Orange Poached Pears
Servings: 4
Prep: 10 minutes
Cook: 8 to 10 minutes

Ingredients
4 to 6 pears, preferably firm, not too ripe
4 tablespoons hibiscus tea (or teabags)
2 cups water
3 orange peels or 1 teaspoon orange zest
1/2 cup freshly squeezed orange juice, about 2 to 3 medium oranges
1/2 cup sugar
1/4 cup honey, maple syrup or 3 tablespoons of sugar
1 teaspoon pure vanilla extract, or 1/2 vanilla pod, beans scraped
2 star anises
Instructions
Prepare the pears: peel, slice in half lengthwise, and scoop out the seeds.
To prepare the orange peels, cut around the orange with a sharp knife, avoiding the white pith. You should be left with a a thin, orange peel. If easier, you could zest the orange instead, you're looking for a 1 teaspoon of zest.
Prepare the poaching liquid: in a medium saucepan over medium heat, combine water, orange juice, hibiscus tea (bags), sugar, honey, orange peels, vanilla and star anise, if using.
Bring the liquid to a boil, then reduce the heat to medium low. Gently submerge the pears in the poaching liquid. Simmer the pears for 8 to 10 minutes, light pink, until softened, and fork tender.
Pull the pears out of the poaching liquid and place them in a heatproof container. In the meantime, simmer the sauce for 10 more minutes, until reduced and slightly thickened, or to preference.
Pour the syrup over the pears, straining out remaining tea leaves and spices using a sieve.
You could serve them right away, but I prefer them cold. Allow them to come to room temperature, then store in the fridge for at least 3 hours before serving.
To serve, plate with yogurt and granola, ice cream and toasted almonds or custard and crumble.