Hungarian Langos Fried Bread with Citrus Honey, Plus a Margarita
Posted on: January 29, 2023. Updated on: June 30, 2023.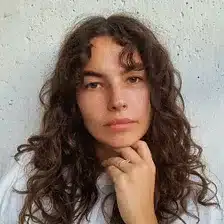 by Carolina Gelen
Jump to Recipe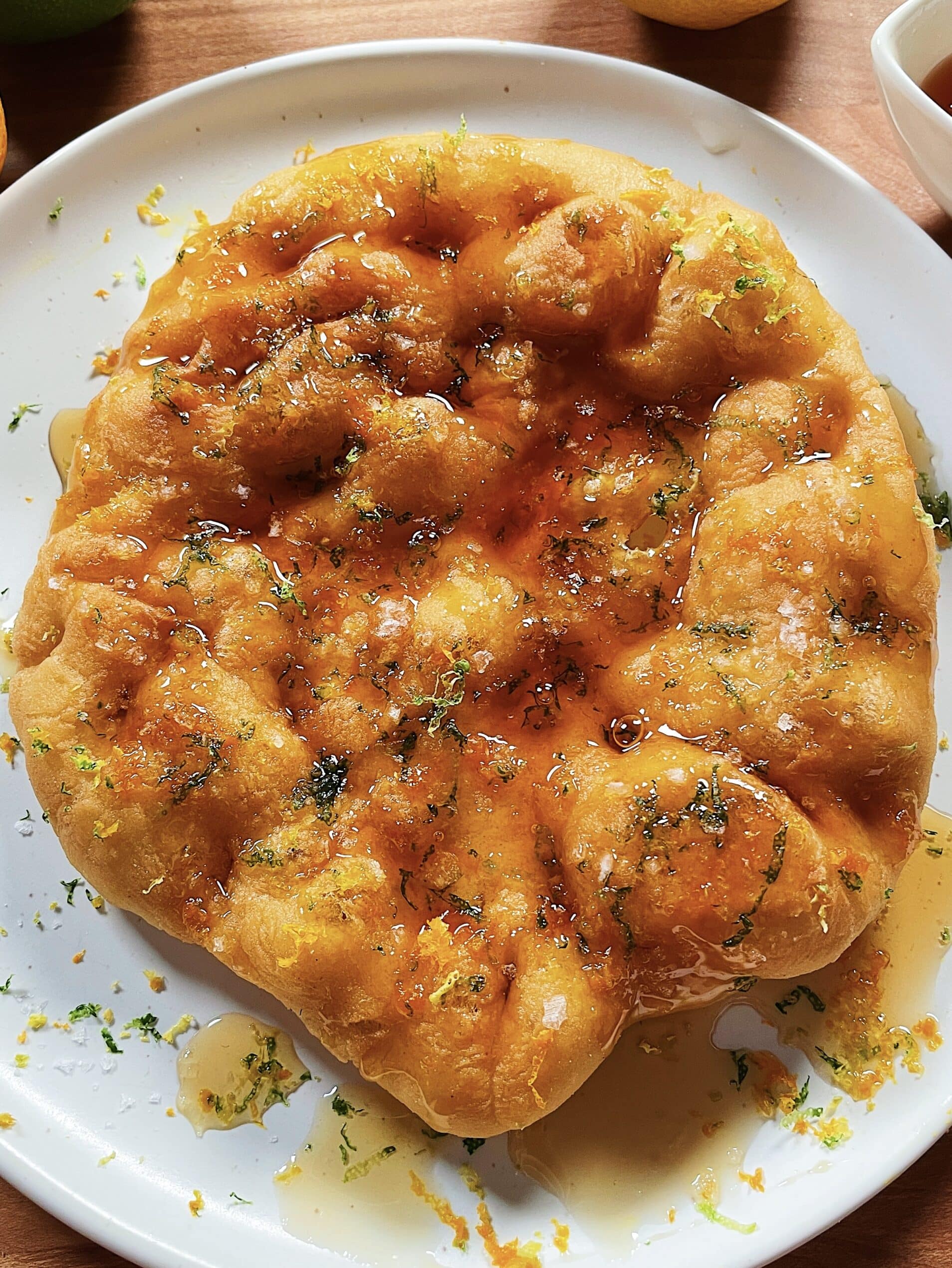 I grew up eating Hungarian lángos, a very popular fried bread sold almost everywhere by street vendors, corner shop bakeries and not to mention a staple in most people's homes. The fried bread is usually topped with a savory cheese, sour cream, and garlic and herbs.
The version I made is my sweet take on this savory classic. Growing up, we used to top off the leftover fired bread with honey, sometimes chocolate or ice cream, and have it for dessert. The dessert was my favorite part, so I decided to develop a recipe dedicated to it. I had a lot of citrus on hand, so I ended up topping the fired bread with fresh citrus zest, honey and crunchy flaky salt.
Squeeze the leftover citrus and turn it into a refreshing margarita. If you want to skip the alcohol, combine the citrus juice with simple syrup and seltzer for the perfect mocktail.
Hungarian Langos Fried Bread with Citrus Honey, Plus a Margarita
Servings: 4
Prep: 15min (plus overnight proofing)
Cook: 20min
Total: 35min

Ingredients
Hungarian Langos Fried Bread
1/2 teaspoon (2 g) active dry yeast
213 g (1 cup) lukewarm water
2 tablespoons extra-virgin olive oil
243 g (1 3/4 cups) all-purpose flour, plus more for dusting
1 teaspoon kosher salt, or a pinch of salt
Oil for frying
Honey, citrus zest and flaky salt for topping
Margarita (1 drink)
1 oz freshly squeezed citrus juice
1 oz orange-flavoured triple sec liqueur
2 oz blanco tequilla
Flaky salt
Instructions
To make the dough combine the yeast, lukewarm water, and oil in a mixing bowl. Mix until the yeast has dissolved. Add the flour, salt and mix using a fork to combine. You should be left with a sticky, shaggy dough. Cover the bowl and proof overnight, in the fridge.
The next day, lightly flour your work surface. Place the dough on the floured area, then sprinkle more flour on top of the dough. Divide the dough into 4 to 6 equal pieces. Shape each piece into a ball and set aside.
Heat a 1-inch or 2.5 cm deep oil bath, in a pan over medium heat. Test to see if the oil is hot enough by sprinkling flour on top. If it sizzles, it's ready, if the flour sinks without making any sounds, it's not ready yet. Once the oil is hot enough, lower the heat to medium-low.
Flatten a ball of dough using your floured hands, and carefully dip it in hot oil, making sure the dough is facing away from you when you drop it in. The dough will immediately puff up. Fry until golden, then flip and fry on the other side for another minute or two. It's easier to follow the visual cues instead of timing the process. If needed, add more oil to the pan. Fry remaining pieces of dough.
While the fired dough is still hot, zest the citrus all over, top with a generous drizzle of honey and a sprinkle of flaky salt. Serve right away.
You can make these a day ahead, and warm them in the oven for a few mintues, then add all the toppings on right before serving.
For the margarita, combine all ingredients in a cocktail shaker filled with ice. Garnish the rim of your glass with salt: rub a lime or any citrus wedge around the rim, then dip the rim in flaky salt, and pour in the drink. Serve right away.