Pumpkin Focaccia
Posted on: September 19, 2022. Updated on: July 12, 2023.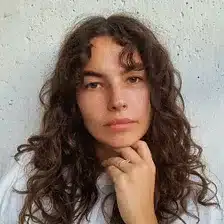 by Carolina Gelen
Jump to Recipe
This week, I decided to start a mini-series on my Instagram account focusing on all things pumpkin. It's been a fun exercise for me, since I wasn't raised with the pumpkin spice culture. The only way I have ever eaten pumpkin growing up was roasted in the oven with a little oil and salt. My mother would make that three to four times during fall, and that would pretty much be my entire pumpkin intake for the year.
Moving to the U.S. last year made me appreciate the creativity that goes into pumpkin-themed product development, I was shocked to see pumpkin spice goat cheese, or pumpkin dog treats pop up in my local grocery store for the first time. That said, I get it, I understand the excitement behind all this pumpkin spice extravaganza, what's not to like? Warm, comforting spices and a delicious, sweet orange fruit, sign me up!
Don't worry, the focaccia itself won't taste like a pumpkin muffin. It has a subtle squash undertone, but most of the pumpkin flavor comes from the toppings. This is a good recipe to make when you want to use up that pumpkin can you've been storing in the back of your pantry for a year, but don't feel like making a pie or sweet pumpkin bread. The squash wedges get jammy, the seeds and flaky salt get crunchy, the focaccia is nice and moist, it's the perfect bread to serve at the beginning of a dinner with some good quality olive oil, and balsamic vinegar.
Pumpkin Focaccia
Servings: a 9 x 13 (23 x 33 cm) inch focaccia
Prep: 15 minutes
Cook: 45 to 50 minutes

Ingredients
DOUGH
350 g lukewarm water
1 1/2 teaspoon active dry yeast
1 x 425 g (15 oz) can pumpkin purée
2 tablespoons extra-virgin olive oil, plus more for greasing
3 tablespoons maple syrup, honey, or sugar
800 g bread flour, plus more as needed
10 g kosher salt
1 teaspoon ground turmeric, optional (for color)
TOPPING
one small pie pumpkin (or any other squash), cut into wedges
100 g (about 3/4 cup) raw pumpkin seeds
12 to 15 sage leaves
Flaky salt
Instructions
Combine the yeast and lukewarm water a 7 QT or 6 liter (or larger) bowl. Allow the mixture to sit for 3 to 5 minutes. Whisk in the pumpkin purée, olive oil, maple syrup, turmeric. Add the flour, salt, and mix with a fork or wooden spoon until you're left with a shaggy looking dough.
Switch to mixing by hand or using a stand mixer, until the dough looks smooth. If you're mixing by hand, try oiling your hands every now and then, it makes the process much easier. Scoop the dough using your palm, and fold it onto itself. Mix for 3 to 5 minutes, or until, again, the dough looks smoother than what you started with. The dough will be sticky and pretty loose, that's what it should feel like. That said, if it feels to unmanageable, don't hesitate adding up to a 60 grams or a 1/2 cup more flour. The flour will hydrate in the fridge overnight, and build more structure as it slowly rises in the fridge.
Once the dough looks smooth, with no more dry flour spots, roughly shape it into a ball, inside the bowl. Drizzle 2 to 4 more tablespoons of oil over the dough. Lift the dough up so the oil gets underneath.
Cover the bowl with plastic wrap and place it in the fridge, overnight (12 hours) or up to 3 days. The dough will slowly proof in the fridge and double in size. Giving the dough this much time to proof will allow the focaccia to develop much more flavor and structure, so I highly recommend cold proofing it.
Line a large sheet pan or a 9 x 13 inch (23 x 33 cm) baking pan with parchment paper — you don't absolutely have to line it, I've had some focaccia-sticking-to-the-pan mishaps, and I've been lining my sheets ever since. Try to avoid using a ceramic or glass pan, they won't give you a very crispy bottom. I prefer using a steel baking pan. Drizzle a few glugs of olive oil in the pan, over the parchment paper.
Punch down the proofed dough. Lightly oil your work surface. Place the dough on the work surface and fold it into a rectangle. Place the dough in the baking pan, fold side down. Proof for 45 minutes, covered, in a warm spot. I like to cover the dough with a second pan, suspended on the edges of the focaccia pan, to prevent the dough from sticking.
In the meantime, slice the small pumpkin into 16 wedges.
Heat the oven at 205°C or 400°F.
Once proofed, drizzle a few tablespoons of olive oil on the dough. Grease your hands and dimple the dough with your fingers. Arrange the pumpkin slices in four rows of 4 slices, pumpkin seeds, sage and flaky salt on top.
Bake for 45 to 60 minutes, checking on it 15 minutes in. Cover the focaccia 20 to 30 minutes into baking, or when the dough looks golden brown on top, with a sheet of aluminum foil, to prevent the focaccia (and focaccia toppings) from browning any further.
Serve with good-quality olive oil and balsamic vinegar on the side. Store at room temperature, in a cool, dry spot, covered, up to a few days, or freeze in a ziplock bag up to a few months.