Pumpkin Spice Latte Cookies with Cream Cheese Frosting
Posted on: September 19, 2022. Updated on: July 12, 2023.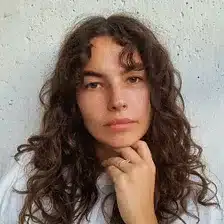 by Carolina Gelen
Jump to Recipe
These tender, frosted cookies are inspired by the popular pumpkin spice latte. The cookie dough is flavored with pumpkin spice butter, espresso powder and warm spices.
Water and cookie dough don't go too well together, that's why the recipe starts by cooking down most of the water in pumpkin purée. We're aiming to concentrate the pumpkin flavor, and reduce the weight of the purée in half. This is a simple step that will have a huge impact on the final result.
The latte aspect comes from the presence of instant espresso powder in the cookies. The rich, dark, bitterness balances out the sweetness of the cookie. Instant coffee will do the job as well, but the coffee taste will be milder in flavor. I always keep a jar of instant espresso powder in my pantry, and I suggest you do so too. Adding a teaspoon of espresso powder to your chocolaty baked goods is a simple method to enrich that dark, rich flavor profile. Ground coffee beans won't do the job in this case.
These cookies are tender, fluffy, soft, and tend to be a part of the cake-cookie genre of this dessert. This is my favorite type of cookie to pair with frosting, contrary to a fudgy, gooey one. Moist, delicate, and good-looking, these cookies will be a crowd pleaser at your next gathering.
Pumpkin Spice Latte Cookies with Cream Cheese Frosting
Servings: 10 to 12 cookies
Prep: 15 minutes, plus 1 hour cooling time
Cook: 25 minutes

Ingredients
Cookies
1/2 can (7.5 oz or 212 g) pumpkin purée
1 teaspoon ground cinnamon
1/2 teaspoon ground nutmeg
1/4 teaspoon ground ginger
1/4 teaspoon ground allspice
1/8 teaspoon ground cloves
2 teaspoons instant espresso powder or instant coffee powder
2 teaspoons vanilla extract
1 1/2 sticks (12 tablespoons or 168 g) room temperature butter
1/2 cup (100 g) white sugar
1/2 cup (100 g) light brown sugar
1 large egg
2 tablespoons (30 g) sour cream or Greek yogurt
1/8 teaspoon vinegar
1/8 teaspoon baking soda
1/2 teaspoon baking powder
1 1/2 cup (180 g) all-purpose flour
1/4 teaspoon kosher salt
Cream Cheese Frosting
8 oz (2 sticks or 226 g) room temperature cream cheese
2 oz (1/4 stick or 56 g) room-temperature butter
5 oz (1 1/3 cup or 150 g) powdered sugar
A pinch of salt
Instructions
Add the pumpkin purée, espresso powder, salt, vanilla extract and spices to a pan over medium heat (I prefer a stainless steel pan for this). Cook for 12 to 15 minutes, stirring occasionally, until the pumpkin purée turns into a thicker dark brown paste. Set aside to cool.
In the meantime, combine the butter and sugar in a mixing bowl. Mix using a stand mixer, electric hand mixer or by hand using a spatula, 3 to 5 minutes, until most of the sugar has been incorporated. Add the cooled spiced pumpkin paste, sour cream, egg, baking soda and vinegar to the bowl. Mix until combined. Lastly, add the flour and baking powder. Mix everything until there are no more dry flour spots.
Place the cookie dough in the fridge to harden, for at least 1 hour, or overnight.
Heat the oven at 375°F or 190°C. Line a large baking sheet with parchment paper.
Once hardened, scoop out the cold cookie dough using an ice cream scoop (I used a 3 tablespoon-sized scoop). Place the cookie dough on the baking sheet. Create a well in the middle of the cookie dough using your finger (similar technique to making thumbprint cookies). This will encourage the cookie to rise flat, rather than in a dome shape. Leave a 2 inch, or 5 cm space in between cookies.
Bake for 10 minutes in the oven, until golden brown on top. Set aside to cool completely.
To make the cream cheese frosting, combine the butter, small pinch of salt, cream cheese, and sugar in a large mixing bowl. Mix using a stand mixer, electric hand mixer, or whisk, until smooth and most of the sugar had dissolved.
Once the cookies are cool enough (room temperature), frost each with a dollop of cream cheese frosting on top.
Store in the fridge, and bring them to room temperature when serving.