Roasted Squash Caprese Salad
Posted on: October 3, 2022. Updated on: July 11, 2023.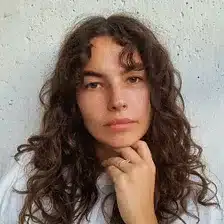 by Carolina Gelen
Jump to Recipe
Caprese salads don't have to vanish after summer. Instead of the traditional heirloom tomatoes, this recipe uses seasonal roasted squash. The sweet, soft, slightly charred squash is paired with fresh mozzarella cheese slices, basil, balsamic vinegar and roasted garlic oil for a show-stopping dinner starter.
Roasted Squash Caprese Salad
Servings: 4 to 6
Prep: 20 minutes
Cook: 35 minutes

Ingredients
1 small acorn squash, sliced into 2-3 cm or 1 inch-thick slices
1 head of garlic, top sliced off
400 g fresh mozzarella cheese, sliced
A handful of fresh basil leaves
Balsamic vinegar glaze
Extra-virgin olive oil
Kosher salt
Instructions
Heat the oven to 425°F or 220°C.
Place the acorn squash slices on a baking sheet, in a single layer. Drizzle a few tablespoons of olive oil all over, sprinkle with salt and toss to evenly coat. Place the garlic on a square of aluminum foil. Generously drizzle with a couple of tablespoons of olive oil. Wrap the garlic head in aluminum foil and place it next to the squash. Roast the squash for 35 to 40 minutes, until softened and slightly charred on the edges.
Squeeze out the roasted garlic cloves in a bowl, mix with a couple of glugs olive oil, salt and pepper.
Layer the roasted squash, mozzarella, and basil on a plate. Drizzle the roasted garlic oil and balsamic glaze all over them. Finish the salad with a sprinkle of flaky salt on top.