Spicy Everything Cheddar Biscuits
Posted on: September 20, 2022. Updated on: July 12, 2023.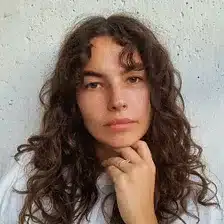 by Carolina Gelen
Jump to Recipe
Golden, cheesy biscuits to spice up your week(end)! These flaky, buttery biscuits are flavored with sharp cheddar cheese, spicy cayenne, and everything bagel seasoning. Your kitchen will smell like a bagel shop while baking these, in the best way possible.
The cheese melts in between those flaky layers and gets nice and gooey. Don't hesitate to play around with the type of cheese you're using, if you're not a fan of cheddar cheese, any other hard, fragrant cheese will do the job.
I had a pack of store-bought everything bagel seasoning hanging in my pantry for a few months I had forgotten about. I randomly found it while developing this recipe, and I'm so glad I did! I threw a quarter cup of the seasoning in the dough which changes the flavor profile of these biscuits for the better. If you can't find everything bagel seasoning at your local grocery store, no worries! Mix equal parts poppy seeds, sesame seeds, black sesame seeds, dried minced garlic, and dried minced onion.
When it comes to cayenne, you have to know the type of cayenne you're working with. Is it spicy? Is it mild? Add more or less cayenne depending on your preferred spice level for these biscuits. I get mine from the bulk store, it's the extra-spicy kind, so a little goes a long way.
Serve these straight out the oven with more butter and salt on top, or turn them into a delicious egg sandwich.
Spicy Everything Cheddar Biscuits
Servings: 8 biscuits
Prep: 15 minutes
Cook: 18 minutes

Ingredients
113 g (8 tablespoons or 1 stick) cold butter
220 g (about 1 3/4 cups) all-purpose flour, plus more as needed
8 g (about 2 teaspoons) baking powder
2 g (about 1/4 teaspoon) baking soda
6 g (about 1 1/2 teaspoons) kosher salt
4 g (about 1 teaspoon) cayenne, more or less to taste
40 g (about 1/4 cup) everything bagel seasoning

I used a salt-free kind. Leave out some salt from the recipe if using everything bagel seasoning that contains salt

100 g (3.5 oz) sharp cheddar cheese, grated
215 g (about 1 cup) heavy cream, plus more for brushing on top
8 g (about 2 teaspoons) vinegar
Flaky salt for topping
Instructions
Mix the vinegar and heavy cream in a cup and set aside. Combine the flour, salt, baking powder, baking soda in a mixing bowl. Run your fingers through, or whisk, to evenly distribute the dry ingredients in the bowl.
Add the cold butter. Start massaging the butter and flour together, until you're left with a grainy, sand like texture. Make sure to move fast, you want the butter to stay as cold as possible. This step could be done in a food processor as well.
Add everything bagel seasoning, cayenne, cheddar and toss to coat in flour.
Make a well in the middle and pour in the vinegar + heavy cream mixture. Roughly mix using a wooden spoon, fork or spatula, then dump the dough on your work surface.
The dough might be a bit dry and crumbly, since the flour hasn't had time to fully hydrate. If the dough feels too sticky, don't hesitate adding a couple more tablespoons of flour. Roughly shape the dough into a rectangle. Cut the dough into 3 pieces, widthwise. Stack those three pieces of dough on top of each other.
Roll the dough into a 2.5 cm or 1 inch thick rectangle.
Divide the dough into 8 smaller rectangles using a knife or bench scraper. Brush the top of each biscuit with melted butter or cream. Sprinkle flaky salt on top.
Freeze the biscuits for 20 to 30 minutes. Make sure you don't skip this step! The butter needs to be cold once the biscuits go in the oven, in order for the biscuits to puff up and get those typical rich and flaky layers. We worked the dough, rolled it and shaped it at room temperature, therefore the butter starts to warm up. In order to get the butter in the dough nice and cold, the dough needs to chill in the freezer for a bit.
Heat the oven to 425°F or 215°C.
Place the frozen biscuits in the oven. Bake for 16 to 18 minutes, or until the biscuits look golden brown and puffed up. If the top of the biscuits starts browning too fast, cover the biscuits with aluminum foil and continue baking.