Summer Pasta Salad
Posted on: August 25, 2020. Updated on: July 12, 2023.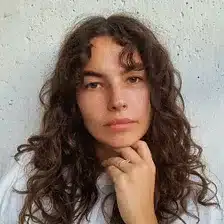 by Carolina Gelen
Jump to Recipe
[vc_row][vc_column][vc_column_text]
Closing off this summer season with a quick, very scrumptious pasta salad, a very well balanced one: we have the sweetness of the grilled peaches, the freshness from the herbs, the salty kick from the green olives and anchovies and the filling fattiness from the cheeses used in this salad. Sounds like an awesome lunch to me!
[/vc_column_text][/vc_column][/vc_row]
Summer Pasta Salad
Ingredients
200-300 grams or 2-3 cups rigatoni pasta (or any other pasta)
300-400 grams or 4-5 small peaches
3 bell peppers (yellow or red)
70 grams green or 2/3 cup green olives
150 grams fresh mozzarella cheese
30-50 grams sharp cheddar
50 grams feta cheese
one small red onion
a handful of basil
a handful of parsley
3 sprigs of rosemary
FOR THE DRESSING
1/3 cup extra-virgin olive oil
1 tablespoon sweet whole grain mustard
the zest of one lemon
the juice of half a lemon to one lemon (to taste)
3 cloves of garlic, minced
3 anchovy fillets (optional)
salt and pepper (to taste)
Instructions
 Wash the peaches and cut them in half. Grill the peaches on a grill pan for 3-7 minutes, or until they get grill marks on one side. Take them out of the pan, cut each half in 2-4 pieces and add them to the salad bowl.
 Next, cut the bell peppers into thin slices and cook them on the same pan on which you cooked the peaches on. No need to rinse it or anything, we are just looking to soften the bell peppers. Cook them in a little bit of oil for 5-10 minutes, while tossing them around with a spatula from time to time. Once cooked, add the bell pepper slices to the salad bowl along with the peaches.
 Boil the pasta in salted water accordingly, then rinse the pasta in cold water for a couple of times to stop the cooking process, then add the pasta to the salad bowl.
 Cut all the green olives in half and add them to the bowl.
 Finely chop a red onion and add that to the salad bowl as well.
 Add all the herbs to the salad bowl. You can slice them using a knife or just tear the leaves using your hands.
 To make the dressing, simply whisk together the olive oil, mustard, minced garlic, lemon zest, anchovies, lemon juice, salt and pepper in a bowl until combined.
 Add the dressing to the salad bowl and toss everything together until all the ingredients are fully coated in the dressing.
 Last step, tear pieces of the mozzarella and add them to the bowl, crumble the feta and shave the sharp cheddar on top of the salad bowl, then gently toss everything around once again.