Sweet Potato au Gratin
Posted on: September 9, 2022. Updated on: July 12, 2023.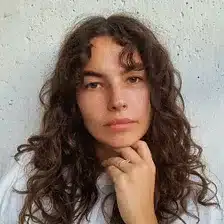 by Carolina Gelen
Jump to Recipe
Sweet potato season is slowly approaching us, so today I'm sharing with you one of my favorite ways to cook this vegetable: sweet potato au gratin. A rich, cheesy savory dish to make for a special gathering. The thinly sliced sweet potatoes are slowly cooked in the oven, in a mixture of cream, herbs, and sharp cheese, ending up extra tender and flavorful.
If you end up with having some leftovers on hand, crisp the cold potatoes in a cast-iron skillet and serve them for breakfast, with eggs on the side.
Sweet Potato au Gratin
Servings: 8
Prep: 30 minutes
Cook: 1 hour 30 minutes

Ingredients
6 to 7 medium sweet potatoes, peeled and thinly sliced (about 3-5 mm thick) using a mandolin
A knob of butter, for greasing the pan
2 1/2 cups heavy cream
100 grams grated cheese, use sharp cheddar, Parmesan, Gruyère or a mixture of these cheeses
2 sprigs of rosemary, finely chopped
3 garlic cloves, minced
1 teaspoon freshly cracked black pepper
A big pinch of salt
Instructions
Heat the oven at 425°F or 215°C.
Grease the bottom of a cast iron skillet or a lasagna pan with butter. I used a 13 x 9.75 inch dish. This recipe will work with smaller pans, just as well. Tightly arrange the sweet potatoes in the greased baking dish.
Combine 1 1/2 cups heavy cream, rosemary, a big pinch of salt, pepper, garlic, and 50 grams of cheese in a bowl. Pour the mixture over the potatoes. Cover the pan with aluminum foil and bake for 1 hour.
Take the potatoes out the oven, remove the aluminum foil, and pour over the remaining 1 cup of heavy cream. Sprinkle the remaining 50 grams of cheese on top. Bake, uncovered for 25 to 30 more minutes or until most of the cream has evaporated and the cheese is nicely caramelized on top.
Serve right away, or store in the fridge for later.