Goat Cheese Frosted Carrot Cake
Posted on: October 4, 2022. Updated on: July 11, 2023.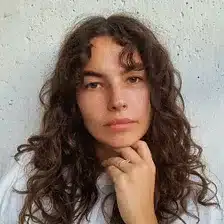 by Carolina Gelen
Jump to Recipe
Have you ever ordered something at a restaurant that tasted nothing like what was described on the menu?
You leave unsatisfied, a little deceived, and ripped off. Something we don't talk enough about is the craving you're left with. I still want to know what the dish I was expecting tastes like! That's how this recipe came about.
Whenever I order a goat cheese dessert, it always disappoints: I never taste the goat cheese. This summer my mouth started watering when I saw vanilla goat cheese ice cream on a restaurant menu. What a letdown! You couldn't pay me to guess it was made with goat milk. A few weeks ago I ordered a cake topped with goat cheese whipped cream. Again, not a single hint of goat cheese.
Not this recipe! I had to take the matter into my own hands and satisfy my goat cheese dessert craving that hadn't left my life in months. A carrot cake felt like the right pairing for this delicious frosting. This sweet, moist, spiced, tender carrot cake is topped with a silky, creamy, rich, and tangy goat cheese frosting that actually tastes like goat cheese. I know some of you might raise an eyebrow when you hear this combo, but trust me, it works!
And for the goat cheese haters out there, no worries. Substitute the goat cheese with cream cheese, and you can still enjoy this delicious recipe. If this recipe isn't doing it for you, I linked other recipes I made this week you might enjoy!
Goat Cheese Frosted Carrot Cake
Prep: 20 minutes
Cook: 30 minutes

Ingredients
CARROT CAKE
170 g (1 1/2 sticks) butter
1 1/2 teaspoons ground cinnamon
150 g (3/4 cup) brown sugar
100 g (1/2 cup) white sugar
1/2 teaspoon kosher salt
2 teaspoons vanilla extract
1 teaspoon lemon juice or vinegar
3 to 4 medium (about 250 g or about 2 cups packed) carrots, coarsely grated
3 large eggs
60 g (1/2 cup) walnuts or pecans, chopped, optional
175 g (1 2/3 cups) rolled oats
150 g (1 cups + 2 tablespoons) all-purpose flour
1 teaspoon baking powder
1/4 teaspoon baking soda
GOAT CHEESE FROSTING
227 g goat cheese, room temperature
135 g cream cheese, room temperature
112 g (about 1 cup) powdered sugar
Instructions
Heat the oven to 350°F or 175°C. Grease a 9-inch (22-cm) square or round tin with oil or butter, and line it with parchment paper.
Add the butter to a small saucepan over medium heat. Cook the butter, stirring occasionally, for 6 to 8 minutes. At first, the butter will foam up, and eventually brown a minute or two later. You'll know the butter is ready once it reaches a golden amber color. Pour the butter in a large mixing bowl.
Add the cinnamon, brown sugar, white sugar, kosher salt, vanilla extract, lemon juice or vinegar, and carrots to the bowl. Mix until combined.
Add the eggs, walnuts, and oats. Mix using a wooden spoon or spatula until combined.
Add the flour, baking powder and baking soda. Toss the baking powder and baking soda in the flour, using your fingers or a whisk. Mix the batter using a wooden spoon or spatula, until there are no more dry flour spots.
Pour the batter the lined baking tin. Bake the carrot cake for 45 to 50 minutes, or until golden brown on top. I like to gently tap the middle of the cake, if it's still wobbly, give it a few more minutes in the oven.
Set the carrot cake aside to cool.
To make the frosting, combine the goat cheese, cream cheese, a small pinch of salt, and sugar in a bowl. Mix using a hand whisk, an electric or stand mixer, until smooth.
Frost the cooled cake, and serve.
Store in the fridge, and bring to room temperature before serving.