Grilled Cheese Sandwich
Posted on: January 27, 2021. Updated on: July 12, 2023.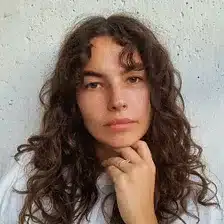 by Carolina Gelen
Jump to Recipe
[vc_row][vc_column][vc_column_text]
This is my recipe for the ultimate grilled cheese sandwich, plus a little trick to make sure the cheese gets nice and gooey. We're using a combination of low moisture mozzarella cheese for that satisfying cheese pull and sharp cheese (like mature cheddar or Gruyere) for flavor.
[/vc_column_text][/vc_column][/vc_row]
Grilled Cheese Sandwich
Servings: 1
Prep: 2 mins
Cook: 7 mins

Ingredients
2 slices bread of choice (sourdough, brioche, etc.)
3 tablespoons ghee or 3 tablespoons of butter + a drizzle of oil
70-100 grams shredded cheese, use a combination of mozzarella and a sharp cheese like mature cheddar
1 tablespoon water
salt
Instructions
Start with a pan, preferably cast iron, on medium heat, add in the butter and oil or the ghee, let it melt, then place both slices of bread in the pan. Toast them for 2 minutes on one side.
Flip both slices of bread, add all the shredded cheese one slice, then place the other slice on top (toasted side down). Turn the heat to medium low and toast each side of the sandwich for 2 minutes each, adding a tablespoon of butter at each flip.
Once both sides are toasted, add in the pan 1 tablespoon of water (around the sandwich, not on top of the sanwich) and cover the pan with a lid for 1 1/2 mins, this will steam the sandwich making the cheese extra gooey.
Serve!