Smoked Turkish Eggs
Posted on: January 15, 2023. Updated on: June 30, 2023.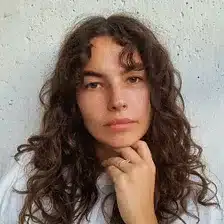 by Carolina Gelen
Jump to Recipe
Turkish eggs, also known as Çılbır is a spicy, creamy, perfectly balanced breakfast to start your day. It uses minimal ingredients for maximal flavor and the recipe is so easy to make, I'm sure you'll be able to eyeball it the next time you try it.
The best part about it is that it takes less than 15 minutes to make, yes, including the smoking part. I like to smoke the yogurt for an extra depth of flavor. Trust me on this, you don't need one of those expensive smokers you see chefs and bartenders use, all you need is a heatproof surface such as a marble platter, a cast iron pan or a baking sheet and something to cover the dish with while smoking, whether it's a glass cake cover, an aluminum foil sheet or another pan. Check out the instructions for more details.
Serve with a thick slice of fried or toasted bread and enjoy!
Smoked Turkish Eggs
Servings: 1
Prep: 12 min
Cook: 3 min
Total: 15 min

Ingredients
1 to 1 1/2 cups full-fat yogurt
1 to 2 garlic cloves, grated or minced
2 sprigs fresh dill, chopped
Kosher salt
2 tablespoons butter
1/2 teaspoon Aleppo pepper, substitute with any chile flakes you have on hand
1/4 teaspoon cumin seeds
1 or 2 eggs
Bread, for serving
3 herb sprigs, for smoking the yogurt, such as rosemary, thyme, oregano or sage sprigs
Instructions
1. Combine the yogurt, garlic, dill and a pinch of salt in a serving bowl. To smoke the yogurt, first, dry the herbs: microwave them for 30 seconds or quickly broil them until dry. Place the bowl over a heatproof surface such as a marble platter, a baking sheet, or pot. Place that item on your stove (stove's not on). Light the dry herbs on fire, blow out the fire, then place the the herbs on the surface. Cover with a glass cake cover, aluminum foil or a lid for 30 seconds to 1 minute, to smoke the yogurt. Remove the cover, then set aside.
2. Melt the butter in a small saucepan over medium-heat. Once it starts sizzling, remove the pan off heat and add the Aleppo pepper and cumin seeds.
3. To poach the eggs, bring a small pot of water to a boil. Lower the heat to medium-low, you should be left with a gentle simmer. Season with a pinch of salt. Crack each egg over a mesh sieve, this will get rid of the loose egg whites that give poached eggs that stringiness. Create a vortex in the water by stirring it using a spoon or spatula. Drop each egg in the vortex and simmer for 1 1/2 to 2 minutes, or until the egg white looks opaque. Lift the eggs with a spoon and gently touch the yolk with your finger, it should feel bouncy and wobbly to the touch (for a runny yolk).
4. Place the eggs over the yogurt in the serving bowl, then top with a pinch of salt and the infused butter. Serve with toast or fried bread and enjoy.